Sunday February 19, 2017
12:00pm – 4:00pm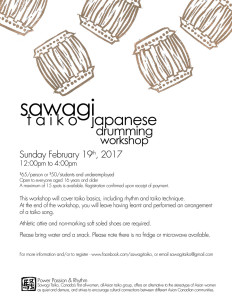 $65/person ($55/students or underemployed)
Open to everyone age 16 years and older.
A maximum of 15 spots available. Registration confirmed upon receipt of payment.
The workshop will cover taiko basics, including rhythm and taiko technique.
At the end of the workshop, you will leave having learned and performed an arrangement of a taiko song.
Athletic attire and non-marking soft soled shoes are required.
Please bring water and a snack. Please note there is no fridge or microwave available.