ONE DAY WORKSHOP
Sunday, February 21, 2016 10:00 am – 4:00 pm
Learn about taiko history, notation, and basic rhythms at this one-day, hands-on workshop. At the end of the workshop, participants will have learned a taiko piece. No previous experience is necessary.
Venue: Taiko Space, Vancouver
Fee: $75 general or $50 for students/ seniors/ unemployed. Participants must be a minimum of 16 years of age.
Please wear loose, comfortable clothing, and bring a lunch. Bring soft-soled indoor athletic footwear, or be prepared to go barefoot – street shoes cannot be worn inside the taiko space. Water and juice will be provided.
---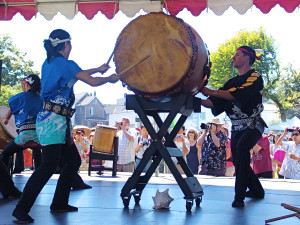 Please call 604-683-8240 before sending the registration form below and payment to Katari Taiko to:
Katari Taiko Workshop Registration
#410 – 111 Hastings Street West, Vancouver, BC V6B 1H4
Tel: 604.683-8240; Fax: 604.683.7911
E-mail: diane@dkam.ca; www.kataritaiko.bc.ca
Applicants will be accepted on a first come, first served basis to a maximum of 15. Registration will not be confirmed until the fee is paid.
---
Please Become A Member!
Katari Taiko Drum Group Association is a non-profit society dedicated to educating Canadians about the history, art and performance of traditional and contemporary taiko music (Japanese drumming). Your membership shows your support for the work of Katari Taiko. You will receive news and notices of upcoming performances and the annual general meeting.