The 2016 Regional Taiko Gathering ended with a BOOM! as Tiffany Tamaribuchi and Friends, Vancouver Okinawa Taiko and Winnipeg's Fubuki Daiko rocked The Rio to close out the RTG in style. Thanks to the taiko players from across the continent who joined us for an amazing weekend of drumming, food and laughter. The blisters will fade but the memories will linger . . . check out a gallery from the weekend HERE.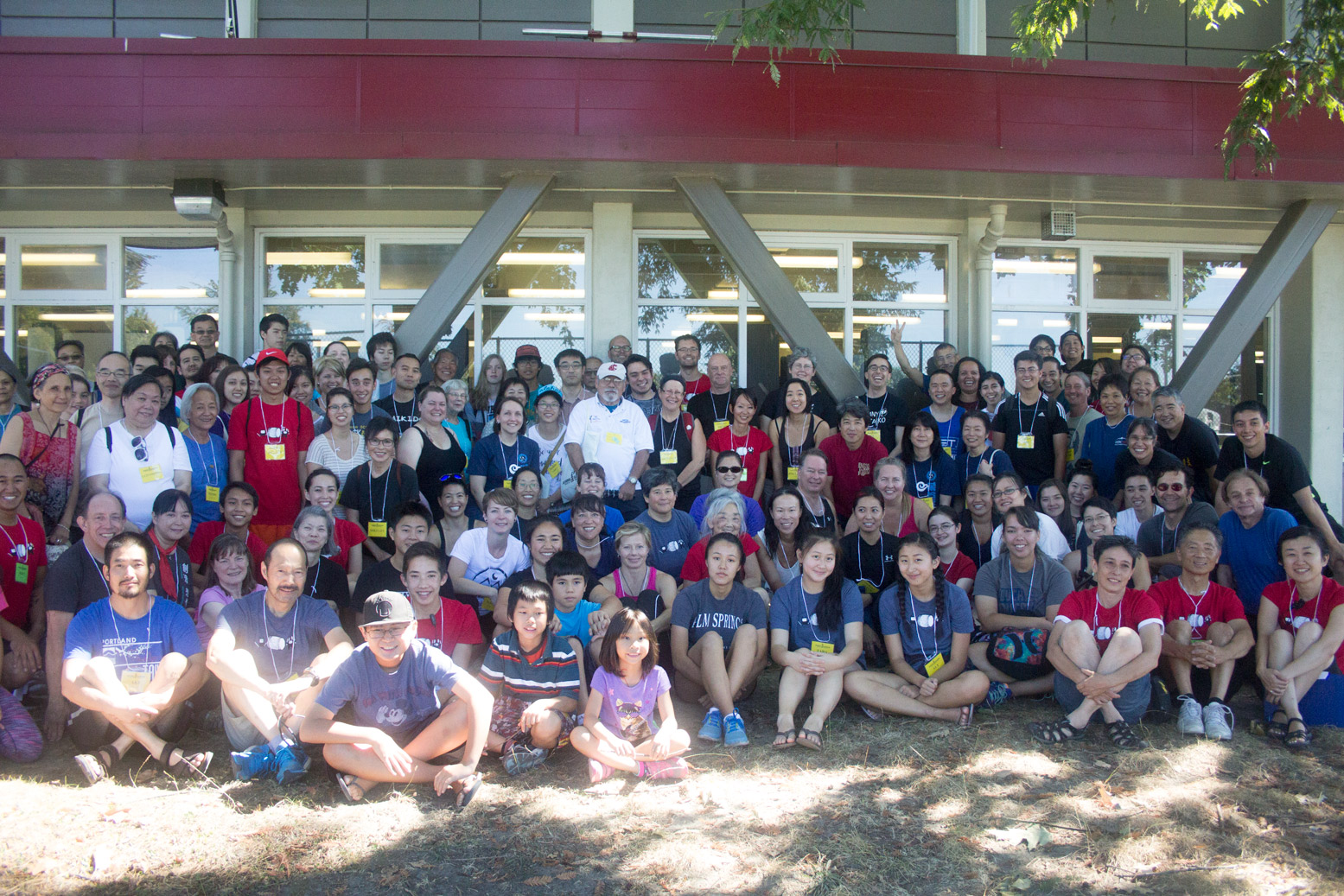 INK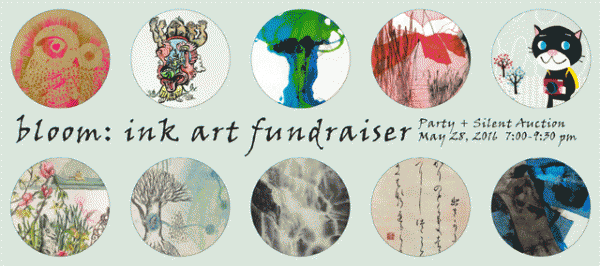 Nikkei National Museum 8th Annual BLOOM Art Auction
Saturday, May 28, 2016, 7pm-9:30pm (19+)
Tickets $25 + tax | Members $20 + tax
info & tickets 604.777.7000
Gallery exhibit & online preview from May 17, 2016
Taking inspiration from Takao Tanabe's Sumie works, the Museum's annual spring fundraiser will be around the theme of INK! Featuring gorgeous pieces by a diverse group of contemporary and traditional artists and artisans who have generously donated work in all media, there will be a preview for two weeks prior in the Nikkei National Museum gallery as well as online. Many of the participating artists will be in attendance.
Bid on over 60 select artists' interpretations of INK
Ink Brush Banquet by Open Sesame
MC by Tetsuro Shigematsu
DJ Rennie Foster
Taiko performance by Sansho Daiko
Live shodo calligraphy performance by Kisyuu
Sumie and calligraphy station
a chance to snap up some amazing silent auction prizes!

Miyake-Jima Geino Doushi-Kai taiko drumming workshops will be held in Vancouver, Canada, May 28 – May 29 at the University of British Columbia (UBC), Asian Centre Building – Music Studio (room 105). Led by Kazuhiro Tsumura. DETAILS AND REGISTRATION.
There will be two short (2 hour) workshops and an intensive (10 hour) workshop. The short workshops may be suitable for beginners or as a refresher for those who have studied the miyake form in the past. The intensive workshop features advanced techniques, kiyari (the chant), and kagura (shinto ceremonial) version. Beginners to taiko may join the intensive workshop.
Miyake-Jima Geino Doushi-Kai is an organization that is based upon promoting and preserving Miyake Taiko. The organization is founded by Akio Tsumura who comes from Miyake Island  and taught the Miyake Taiko style to the taiko group KODO. His sons will teach the workshops.
Miyake Taiko is a traditional Japanese taiko drumming style that has become popularized through the works of KODO and is performed non-stop for nine hours during ceremonial festivals on Miyake Island, Japan.
ONE DAY WORKSHOP
Sunday, May 15, 2016 10:00 am – 4:00 pm
Learn about taiko history, notation, and basic rhythms at this one-day, hands-on workshop. At the end of the workshop, participants will have learned a taiko piece. No previous experience is necessary.
Venue: Taiko Space, Vancouver
Fee: $75 general or $50 for students/ seniors/ unemployed. Participants must be a minimum of 16 years of age.
Please wear loose, comfortable clothing, and bring a lunch. Bring soft-soled indoor athletic footwear, or be prepared to go barefoot – street shoes cannot be worn inside the taiko space. Water and juice will be provided.
Have you ever wanted to play taiko? Are you looking for new skills? Attend the 2016 Regional Taiko Gathering in Vancouver this summer.  Some of the most skilled and well-respected taiko leaders and other artists will present a variety of hands-on workshops. You will also have a chance to enjoy a concert by leading  taiko players in North America and meet members of the taiko community.  The event is open for beginners, youth, practitioners, and professionals alike.
Welcome to our new, refreshed website. It's a fresh coat of paint, really, but we hope you enjoy browsing the content. You'll find Vancouver -area taiko news along with links to upcoming shows and workshops. If you want to stay current with what's going on in the local taiko scene please sign up on the right for notifications about new posts. You can also find links to all nine local groups along with a directory of regional taiko groups. Thanks for visiting!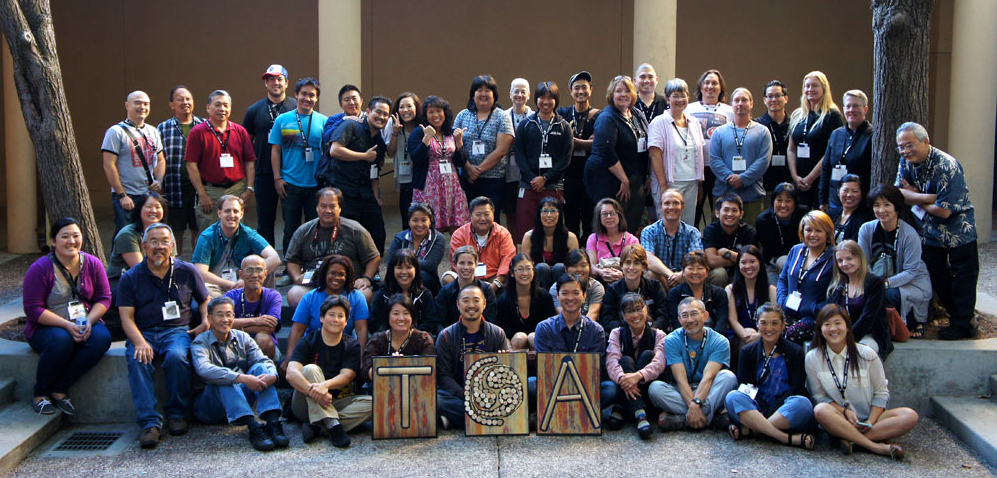 The Taiko Community Alliance (TCA) is an organization formed in early 2013 to serve as a resource for the taiko community by the North American Taiko Conference (NATC) Advisory Council. The NATC has served to bring together taiko artists, instructors, and enthusiasts since its first conference in 1997. The TCA launch meeting took place at Stanford University on August 23 – 25, 2013. Its core values and guiding principles include respect, heritage & evolution, empowerment, inclusivity, and transparency. taikocommunityalliance.org